Go large or go home: Big bags for 2023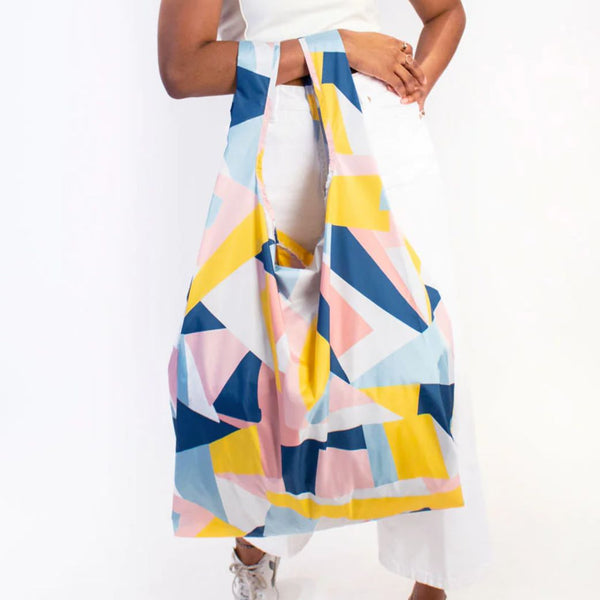 We like big bags and we cannot lie… If you're the same, then you're in luck as uber size handbags are firmly back in fashion for 2023.
While mini bags aren't necessarily going anywhere, thankfully the sensible big bag is back. For anyone who likes to carry their life around with them, the tiny bag trend has been excruciatingly difficult to navigate. Quite frankly, for many of us, being able to carry around a lipstick and a credit card just isn't enough.
So it was with a big sigh of relief that we saw that big bags dominated the runways this season. From oversized totes that you can carry the kitchen sink in, to colossal clutch bags, perfect for when you need that little bit more for a night out, there's plenty of choice for big bag fantatics.
Keen to try out this trend? Check out our favourite vegan-friendly big bags fresh for 2023…
The all-rounder
If you're going to be forking out the big bucks, then you want a versatile bag, which this one by Stella McCartney definitely is. Made from a supple vegan alternative to animal leather, it has a detachable inner pouch to keep all your smaller bits and bobs in.
Square tote bag, £795, Stella McCartney
The on-trend shade
Green has dominated the catwalks for a few seasons now and 2023 is no different. This season however, it's less apple green and more live green, just like this lovely bag. The exterior is made from apple 'leather', while the lining is made from recycled plastic bottles, making this super green inside and out.
Appleskin tote, £185.50, Matt and Nat
The classic tote
A tan tote is a wardrobe staple, which can take you from spring to autumn, from work to play. Made from durable apple 'leather', the classic design won't date so is worth the investment. As well as being a great size, it also contains inner zipped compartments to keep your valuables safe and ensuring you don't have to do the tote shuffle (that thing where you search furiously through your bag for your keys).
The bargain bag
Who says you need to spend a lot on the big bag trend? Made from 12 recycled bottles, this bag is ginormous enough to fit all your shopping in thanks to the super strong material. Available in three patterns, the bags fold down into a pouch that can be carried around in a smaller bag for those unexpected shopping moments.
Recycled XL bag, £15, Kind Bag
The holiday tote
Jumbo totes aren't just for every day, they work really well for vacations as well. This bamboo shopper bag is handcrafted using traditional Lombokian weaving skills, finished with contemporary jacquard hand straps. Lightweight and roomy, it's perfect for holidays – pack it up for the plane journey and then use for beach time once you land.
Large bamboo shopper, £145, Stelar
The colour pop bag


Supersized and bright, this is one bag that no-one will miss! Made from PU, the simple design is contemporary and extremely roomy – it definitely has enough room for that kitchen sink. The pretty lining adds a lovely touch and makes it look more expensive than the under £25 price tag.
Large red tote bag, £23.38, Etsy
The cork tote


Large enough to tote your laptop in, this cork bag is not only beautiful but also practical, as the cork leather ensures bags are water repellent and stain resistant.
It features a secure internal zipped compartment and is finished off with a simple silver buckle. Available in three different shades, the raspberry gets our pick for the most summery shade available.
Cork tote bag, £100, Whistler Tree
>> Related blog: Why should I buy a vegan handbag?