Run a mile in our top five vegan trainers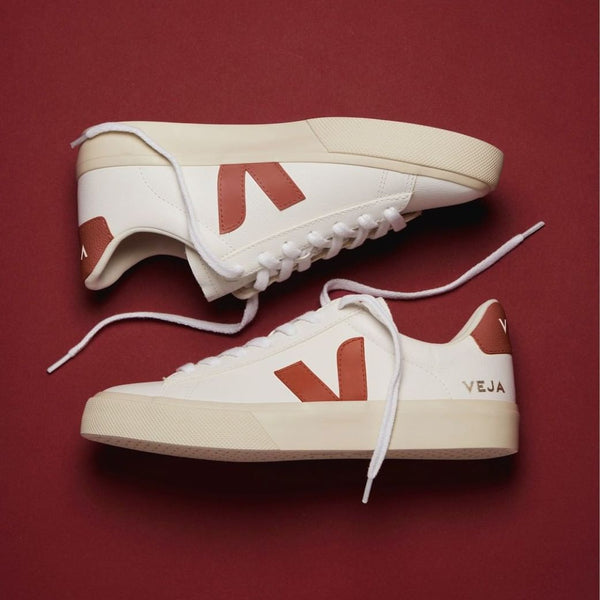 If you're looking to reduce your carbon footprint and make more environmentally conscious choices, switching to vegan trainers is a great place to start. Not only are they made without any animal products, but they're also often made with sustainable materials and production methods.

What materials are used in vegan trainers?
Vegan trainers are made with a variety of materials, including synthetic fabrics like polyester, nylon, and microfibre, as well as natural materials like cork, hemp, and bamboo.
These materials are often more sustainable than animal-based materials, as they require less water and energy to produce and do not contribute to deforestation or other environmental issues.
Some vegan trainers are also made with recycled materials, such as recycled plastic bottles or rubber, further reducing their environmental impact.
The best vegan trainers to buy today
One of the most organic sneakers ever made, Saye is a vegan shoe company making shoes from recycled corn and bamboo, providing their audience with a range of different color options and have been doing so since as early as 2018.
Based in Felgueiras Portugal, Saye pushes for the idea of reforestation and so has embedded that cause into their business. For every pair of Saye trainers bought, two trees are planted in designated regions across the globe achieving this with collaboration with NGO, WeForest. So far Saye has planted close to 159,000 trees worldwide and they have no plans to stop.
True innovators, Saye collaborate with factories and suppliers, which allows them to develop new materials, processes, and products with a lower impact on the planet.
BUY: Their Modelo '89 Vegan Biker, £137, is not only stylish, but features reflective materials, making them perfect for cyclists.


Best for supermarket shops, school runs or a quick flea market splurge, these classic shoes serve all needs. Loved by celebrities such as Kate, Princess of Wales, Emma Watson and Katie Holmes, these are trainers that have been designed to be seasonless and timeless.
The vegan trainers comprise of a tech lining made from 100% recycled plastic bottles, with insoles made from recycled sugar cane and outsoles from recycled rice waste. The materials employed at each step facilitates its comfort and protection against reverberations. 
They also have a fantastic code of conduct and adequate supply chain starting from before the shoes are made to when the shoes are in our hands.
Not all of Veja's trainers are totally vegan - beware everyone thinks the brand is vegan but they also sell animal leather, they do use suede and ChromeFree leather - so double check before you buy!
BUY: The V-10 CWL, £150,  in sun peach are a glorious choice for summer-time. Pair with midi dresses and cut-offs for a cool, laidback look.



Ecoalf's slogan 'Because there is no Planet B' tells us all we need to know about their thought process. Recognized by B Corp in the global top 5% as Best for the World, they try to use the least amount of natural resources as possibly, from materials to transport and everything in between.
Their trainers are made innovative fabrics sourced either from the 500 tones of waste from the bottom fo the ocean or fishermen's nets. They even utitlise discarded coffee grounds to ensure that their clothing and trainers are fast drying, as well as containing UV-protection and odour control.
Ecoalf trainers feature cushioned heel support, light soles with a 90's silhouette and their very cool recycled-style logo. 
BUY: Their Prince trainers, £105, have the lowest carbon footprint on the market and come in a range of gorgeous colours.


PETA-approved, Beflamboyant trainers are with organic materials such as corn, bamboo and recycled cotton.

Their classic UX-68 trainers for example are made from corn waste with a bamboo lining and a 100% recycled insole with active carbon of vegetable origin. The process of making a pair of these trainers also uses way less materials — they use 47.3% less water and 79.1% less phosphate in production.
Their commitment to animals and the planet also extends into their packaging. All their vegan trainers are delivered in zero waste packaging - a recycled cardboard box with natural jute gift bag, alongside a plantable seed card.

BUY: THe UX-68 vegan trainer in Sand is a great go-with-everything choice.
While Ration.L don't have a huge collection of vegan trainers, but what this British brand does have is well considered and stylish. Their small range of unisex vegan sneakers come in a range of subtle colours such a putty and khaki, as well as some brighter blue and pink shades.
All their PU leathers have been coloured with non toxic dyes, plus they're made from made from eco friendly materials that are recycled, vegan and cruelty free. One of the cheaper vegan trainers on the market, they're also good if you're on a budget.
Back in 2015, founder Kavita Basi had to undergo brain surgery. Despite having a huge impact on her life, she decided to stay positive and created Ration.L, as a way to give back to the planet. With every purchase of their products, the company donates 5% to #brainandspinefoundation.
BUY: We say get one in every colour, but if you want to pop this summer, go for the R-Kind trainer in Jupiter Pink, £70.
>> Related blog: Discover the best vegan and sustainble gym gear