Werk it: The best vegan, sustainable gym wear around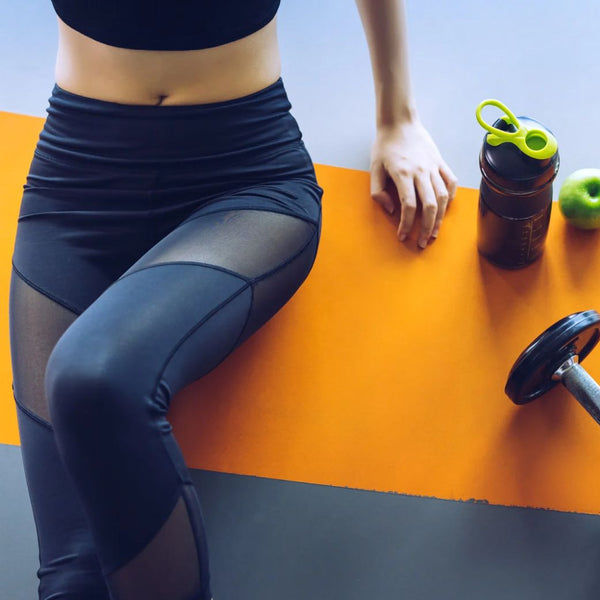 Proving that exercise can be good for the environment and your wardrobe too, it is possible to find vegan-friendly and sustainable gym gear so that you can hit the gym guilt-free.
While animal-based products aren't used in a big way in athleisure wear, there are instances where leather might be used a trim or merino wool as a base layer.
However, while generally being animal-friendly, much workout gear is actually not very friendly towards our planet. According to one report by the University of Florida, athleisure clothing is a big source of microplastic contamination in the sea. That's because much gym gear is made from nylon or polyester and these shed microscopic plastic fibres when washed, which will end up in rivers and oceans and eventually inside the sea life.
What is vegan gym gear made from?
True vegan workout gear will be made from natural, sustainable and organic fibres. Not only are these kinder to everyone but will help absorb all that sweat you'll be working up.
For those items in clingier fabrics, materials made from recycled plastics are the best bet for being both sustainable and vegan.
The best vegan gym gear brands to buy today
Unfortunately, vegan and sustainable athleisure way will often be slightly pricer than their more harmful counterparts. This is often because they will have been made ethically, using high quality materials. However, as is with the case of buying expensive items of clothing, they will last longer due to the higher quality and should withstand all those many spinning classes!
Top tip: Many of these brands will give you a discount if you sign up to their newsletter or are a first-time buyer, so make sure you utilise that!
When founder Grace Beverley decided to leave fast fashion behind, she struggled to find sustainable activewear options. The thought of buying second hand or renting just wasn't very attractive – second hand sweat smells anyone? – so she set up TALA.
They promise to bring sustainably made activewear that still provides great fit, comfort, performance, and style, without the super hefty price tag. Their clothes use a mixture of recycled materials as well as fabrics such as Lyocell to ensure that your workout isn't only good for you, but also the planet.
We love: Their Dayflex Wrap High Waisted Leggings, £59, come in a wide range of colours and also sizes, from 2XS to 4XL.
People Tree have been making sustainable fashion since 1991 and their workout gear follows the same ethics as their mainline – that is every product is made to the highest ethical and environmental standards. They use organic cotton and TENCEL™ Lyocell in their workout gear. The designs are simple, but classic, so won't date, plus they're made to last, so you won't find yourself buying pieces over and over again.
We love: This simple yoga crop top, £26, is made from 95% GOTS and Fairtrade certified organic cotton and is the perfect addition to your workout wardrobe.
This Australian brand uses used plastic bottles to make their super stylish gym gear. Crafed from their signature Movelite material, it's designed to stretch to the perfect fit and feel silky and cool to the touch.
Unlike many workout brands, Nimble is not just about sustainability, but also about looking good and their products come in muted, stylish tones as well as fun patterns. They aim to make their pieces as versatile as possible with sports bras that double up as bikinis and tops that are reversible for extra styling possibilities.
We love: Ditch the boring black cycling shorts for Nimble's polka dot cycling shorts, £55. Guaranteed to make that spin class a lot more stylish!
Vegan, plastic-free, sustainable and ethically made, Vegan Originals ticks all of the boxes when it comes to workwear that's kind to animals and the planet. All their products are made from organic cotton and printed in the UK in a renewable energy powered factory using vegan inks. While their gear is more aimed towards athleisure than full on workout, they have lots of great classics, that will take you from the sofa to the gym (maybe…)
We love: A black vest is always good for a workout and with this Plant Powered logo top, £19, you can also show the power of a vegan lifestyle while you lift those heavy weights.
A brand that isn't just 100% vegan, ethical and sustainable, but also one that produces clothes you actually want to wear, Vegan Outfitters are keen to bring vegan clothing bang up-to-date. Their range of leisure wear including comfy T-shirts and joggers are made from organic cotton and PETA-approved. What's more, every purchase helps feed a rescued farm animal.
We love: There's always a place in our wardrobe for classic jogging bottoms. Whether you wear these classic heather grey joggers, £37, to the gym or while chilling, you'll be doing it with a clear conscious.
>> Related blog: The best vegan trainers around