What to wear instead of wool: 7 vegan alternatives to wool to wear now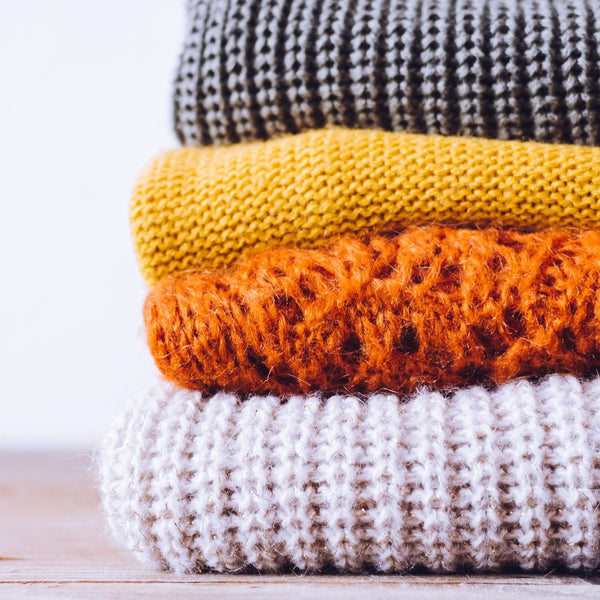 Winter is upon us and it's time to wrap up but what to wear other than wool? Due to the way sheep are sheared and farmed, wool is neither vegan-friendly or sustainable, despite being a 'natural' fibre.
But thankfully, thanks to the creation of new, sustainable and animal-friendly fibres, you can still keep warm in the colder months.
Veagan wool alternatives
Organic cotton
A good choice is cotton, especially organic cotton, which is grown without any nasty pesticides, uses less energy and water and releases fewer greenhouse gases. Cotton also has the added advantage of being soft and comfortable, while also being breathable, meaning you won't overheat (particularly handy if you're menopausal!).
L-R: Circle jumper, £159, Sarah Regensburger | Fluffy Knitted Vest, £49.95, We Are Thought
Hemp
Hemp grows without the use of pesticides and is also completely biodegradable. As an added bonus, it also captures carbon dioxide from the atmosphere, cleaning the air! A insulating fabric, the air in the hemp is warmed by body heat and trapped inside keeping you nice and snug.
L-R: Days Like These hemp hoodie, £39.95, Passenger | Hemp cotton cuffed beanie, £20.25, The Hemp Shop
Vegetable cashmere
While cashmere may feel warm and fuzzy, the way it's produced definitely isn't. It's made from the soft undercoat of goats who are abused and killed, but thanks to soy beans, there's a way to get the feel of cashmere without the violence. Vegetable cashmere is not only super soft, but also machine washable and moth resistant. In fact, it's a super sustainable fabric as well, the only downside right now, is that it's only available small quanitites, which pushes the price up.
L-R: Mock Neck Pullover, £123, KD New York | Octaband, £12, Carrot Banana Peach
Tencel/Ecovero
These wool alternatives are produced in fully sustainable ways, which are kind to the planet. They are also both biodegradable. While they are more often used for dresses, some knitwear is produced using Tencel (also known as Lyocell) and Ecovero. Both materials are super soft to the touch and strong, while also gentle on the skin and make a great base layer to keep snug when the temperature dips.
L-R: Soft Oversized Sweater, £45, Arket | Khaki Turtleneck Tee, £39, Baukjen
Banana fibre
Another sustainable and vegan-friendly option is fabrics made from banana fibres. Using waste product from banana fruit harvesting, it not only uses stuff that would be dumped, but also gives local farmers in countries like Nepal an extra source of income. It can be used to create a silk-like fabric or knitted to create soft, warm clothing and accessories.
L-R: Vegan Eco Banana Yarn Scarf, £26 | Vegan Banana Wristwarmer Fingerless Gloves, £16 - Both Aura Que
Recycled polyester
Recycled polyester or rPET is made out of recycled plastic such as bottles. Despite being made of plastic, it's actually very soft to the touch.  While microfibres are said to release plastics every time you wash them and thus harming the environment. While we don't know the long-term effect of these vegan-friendly fabrics, they are at least using up plastic bottles, which take up to 450 years to decompose.
L-R: Recycled shaggy jacket, £120, Komodo | Wave Jaquard Jumper, £50, Albaray
Secondhand wool
Many vegans won't wear secondhand wool and with good reason – not only do they not want to wear anything harmful to animals, but wearing it makes the world think you're OK with the harsh treatment of sheep. However, if you're more concerned about sustainability, then second hand is the way to go.
Buying vintage means fewer (polluting) resources go into making new clothes, but also prevents clothes going into landfill. According to vintage shopping site, ThredUP, if we all bought just one used, as opposed to new, item a year, it would save around 6 billion pounds of carbon emissions!